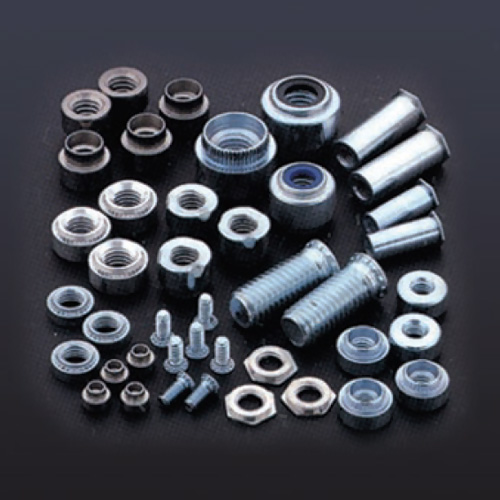 INTRODUCTION
Captive Fasteners provide deep tapped female threads or studs to be used in conjunction with thin sheet metallic materials. They are permanently attached to the parent material allowing the associated bolt (or nut) to be removed in service without risk of the fastener becoming dislodged. This feature has allowed industry to streamline production methods and to fabricate complex shapes including closed box sections. The captive fasteners shown in this catalogue feature attachment by mechanical means avoiding the damage and uncertainty often associated with weld nuts and studs allowing their use in pre-finished materials. They can be described as either 'riveting' or 'clinching' types, according to their method of installation. The simplicity of installation afforded by the mechanical method of attachment make these fasteners equally suitable for installation by methods ranging from a simple press to fully automated equipment. The installation method and equipment will therefore be determined simply by the quantity of fasteners involved and the speed of production dictated by the production process. The information given in this catalogue should be regarded as a general guide only.
RIVETING TYPES
This method of capture involves a 'shank' which is passed through a pre-punched hole in the parent material and then riveted over on the reverse side. Since the shank of the fastener passes completely through, and does not involve deformation of the parent material this method is ideally suited to use in the thinner, harder grades of sheet metal.
CLINCHING TYPES
The knurled or hexagonal platform formed on the fastener is designed to displace the parent material into a groove formed below. The balance of the platform and groove volumes allows the deformation of the sheet to be confined to the immediate area of the fastener preventing the risk of marking on the sheet in general. Since the clinching features of the fasteners are contained within the thickness of the sheet material these fasteners give a completely flush finish on the reverse side of the sheet. The heat treated nature of self clinching fasteners allows high levels of thread strength to be developed within a very compact size envelope. The combination of heat treated fastener, sheet deformation and the complete encapsulation of the clinching feature make this system ideal for the thicker (0.8mm plus) sheet and softer metallic materials.
Quotation Form
Fill out our Online Quotation Form
Account Application
Fill out & email or fax back